The Association of Energy Service Professional's 2018 National Conference & Expo in New Orleans was one of the best energy efficiency gatherings we have experienced to date! It was a great mix of educational breakout sessions and networking opportunities with Big Easy fun stirred in.
The keynote speaker, Janet Lapp, kicked the show off with a great talk on rapid change management and organizational transformation. In an industry that is constantly evolving, it was refreshing to hear several convincing reasons why we should embrace changes. Conference speakers also adopted the forward-thinking approach to energy efficiency that Lapp introduced. There was a lot of talk about new technology. The rise of data-driven energy technology is more important than ever and might finally reveal the key to quantifying behavioral energy efficiency.    
Forward-thinking approaches to energy efficiency.
One of the most exciting things to happen this year was our education partner, DTE Energy, winning the Outstanding Achievement in Customer Engagement award. DTE Energy was recognized for their efforts in reaching the deaf community. We have had the opportunity to see this program in action. By using Video Remote Interpretation, employees out in the field can easily communicate with deaf customers. Employees can communicate in a way that makes everyone involved feel comfort. The program is not at all exclusive to energy efficiency. It is truly inspirational and well-deserving of recognition.
The conference got the full New Orleans experience as we were escorted straight up Bourbon St. by a full marching band. There's nothing quite like 800 people dancing their way down the road surrounded by people on stilts, wearing elaborate apparel. After 3 days discussing what the future holds for energy efficiency, it was just what the witch doctor ordered.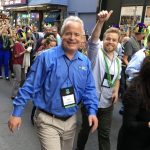 The AESP crew out did themselves yet again. We are already looking forward to San Antonio next year.
__
NEF focuses on energy efficiency education, attending these conference to connect with others who are looking to deliver energy education programs within communities. Our mission is to cultivate energy literacy. Learn more about NEF…